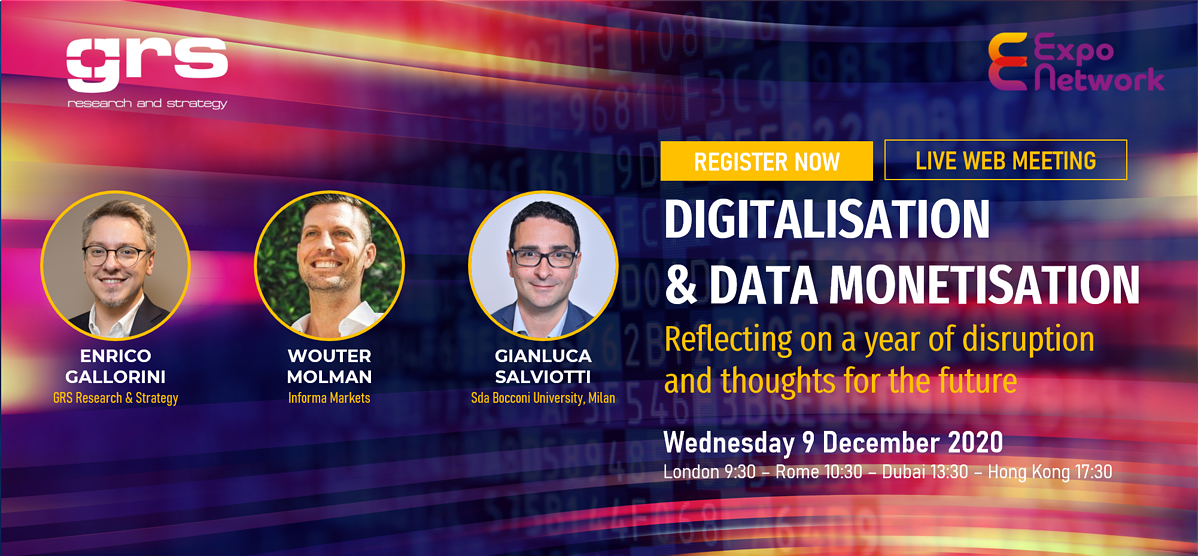 In today's world, every event organizer is thinking about data monetization.
Data monetization starts from the concept that each data has its value… and that "data is the new oil", but insights gathered from this data can be more valuable for specific industry niches, and Exhibition can lead this vertical space.
The data market does not only include technical solutions or support services, but all data exchanges that can involve every single person: "buying" followers on Twitter or "selling" certified data to brokers and intermediaries.
This real data monetization represents a potentially huge market for the exhibition industry, that is difficult to estimate.
However, to understand the reason "why" of data monetization, the mechanisms, the scheme of the value chain to be applied it is not easy and need different and fundamental steps.
The 9th December 2020 we will present the valuable thoughts for the Exhibition Industry, with some of the global opinion leaders on this topics:
Enrico Gallorini (CEO | GRS Research and Strategy), will present the "thoughts on the evolution of the exhibitions", with a strategic approach based on "why" of Data Monetization.
Gianluca Salviotti (SDA Bocconi University), will focus on the value creation and the framework of data monetization.
Wouter Mollman (Informa Markets) will share and present the trajectory of reasoning and the best practice coming from the Health Industry Cluster of Informa Markets
Don't miss this experience, REGISTER NOW!
(the number of participants is limited)
Enrico Gallorini (CEO, GRS Research & Strategy)
Wouter Molman (Executive Vice President EMEA, Informa Markets)
Gianluca Salviotti (Professor of Digital Transformation and Information Systems, Bocconi University, Milan)

Don't miss this experience, REGISTER NOW!